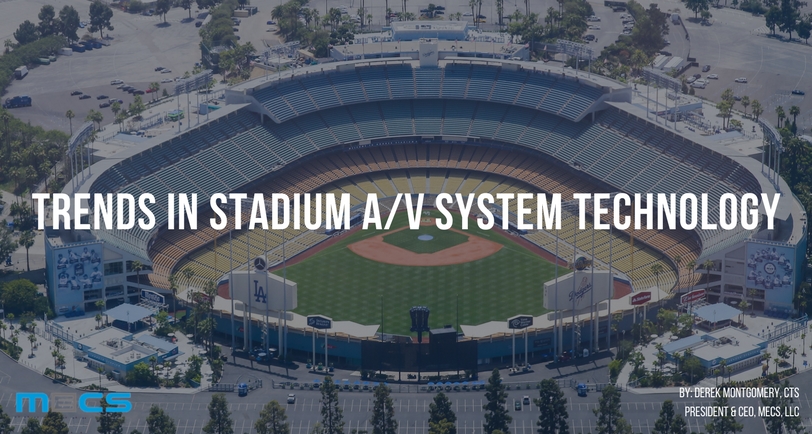 More musical acts are using sporting venues for their tour venues and with the increase in complexity of those acts comes a greater demand for a higher level of sophistication in venue A/V technology.
For instance, about a decade ago several subwoofers were added to many venues to better accommodate acts with bass-heavy music. Prior to that, the industry focused on speech intelligibility in their sound systems to enhance the performance of microphones.
As venues come under more pressure to generate revenue, "rider-friendly" sound systems have come into prominence to meet the demands of high-end musical events.
Expanded convergence of networks and equipment
In recent years, stadiums that host concerts and sporting events have gone through a period of transformation driven by the uptake of networked-signal transport from end-to-end. This approach puts the audio on fiber across one of several networked-audio standards like AVB, Dante, and Q-SYS with analog or AES3 as a backup.
Even as the Dante protocol has become somewhat ubiquitous in this space, we still lack a standardized offering from equipment manufacturers. This means that you might end up with equipment that only has one Dante port, so creating redundancy in the system design can quickly become a complicated endeavor.
Systems choices are still heavily dependent on endpoints while the network types depend on what each brand supports. While venue IT managers have managed to keep their data networks separate from A/V, the current convergence taking place within the industry suggests that the network choice will also become as important as the choice of amplifiers and speakers.
Reducing logistical costs while building smart stadiums
Historically, whenever a touring band set up shop at a venue, all the in-house equipment was largely left unused. But that's changing as bands now expect the venue's sound systems to provide delay and fill speakers to support the touring system.
This phenomenon can be attributed to reducing logistical expenses by leveraging technology that's already available at the venue. The bottom line: Venues need to upgrade their systems to attract the most lucrative touring acts to their locations.
It's also created more competition within this space with new A/V system technology brands providing options for owners who are carefully vetting their equipment choices. Brands such as L-Acoustics are found on the majority of tour contract riders. As a result, you can be sure to find them in most sports venues as well.
As sports venues also embrace tour-rider-friendly brands of sound systems, you can also expect competition between these types of venues to intensify.
Eventually, you can expect sound systems to also depend on data networks that demand interoperability between related components. This will probably accelerate a move toward a networked sound that high-end brands have already embraced.
As big data and the Internet of Things (IoT) become commonplace at stadiums to enhance audience experiences, there will be an increasing need for network management centralization, supported by more efficient IT infrastructures.
For stadium owners thinking of upgrading their in-house sound-systems, it will also be important to identify future A/V system technology requirements before making a commitment. This approach is important to get the most out of the system investment.
MECS has vast experience developing and deploying A/V systems technology for stadiums across the country. Our extensive experience within this space enables us to design solutions for the long-term, at a lower cost.
If you're interested in learning more about how high-end A/V system technology can help your business gain a competitive advantage, contact us for a free consultation.
Post by 
Derek Montgomery
Derek Montgomery has over 20 years of experience in the electronic technology industry. During his time in industry, Derek realized that most organizations were being underserved by technology companies who were more interested in selling products than creating lasting partnerships. Using his in-depth knowledge and love of technology, Derek founded MECS, with the goal of providing innovative solutions and unparalleled customer service.