KIDS IN TECHNOLOGY INITIATIVE
The
Kids in Technology (KIT)
Initiative focuses on helping develop interest for technology and technology related careers with children in our local communities. MECS has built a demo unit that is comprised of an interactive smart board, video conference system, and other high-tech devices to help kids learn how we design, build and control high-tech systems. The system can be completely controlled wirelessly via an iPad from anywhere in the room. This initiative is designed to provide technology and engineering inspiration to students in grades K-12. By doing so, our goal is to increase student's interest in technology through hands-on and interactive use of the latest in cutting edge technology.
We want to ignite, excite and prepare students for majors and careers in the high-demand fields of Technology and Engineering. Students who participate will design and build science and engineering projects that create a unique foundation for excelling at the finest universities.
MECS hopes to increase the quality of education for students through the use of technology in the classroom as it partners with willing school systems. It is our mission and hope that this will help diversify student's interests and prepare them for the challenges of the twenty-first century and the global economy.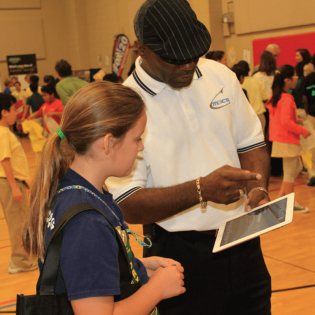 Schools
Are you employed by or associated with a school that would be a good candidate for this program? Below is what you can expect:
MECS KIT Mobile on site for students to interact with
MECS employees present to educate and engage with students on technology topics
Students who participate will design and build technology projects which can help establish a foundation for their continuing education
An opportunity to get students excited about technology and technology-related careers
Manufacturers
Are you employed by one of our technology partners? The KIT program has many benefits and opportunities for manufacturers to get involved. Here are a few ways:
Manufacturers can provide equipment that is added to the MECS KIT Mobile.Students who participate in the program use these items during our day onsite.
Manufacturers can provide donations in the form of marketing dollars in order for us to expand our program reach, as well as purchase additional items to be added to the MECS Kit Mobile. 
Want to get involved? Click below to contact us, and we'll reach out to discuss partnership opportunities for the KIT program.