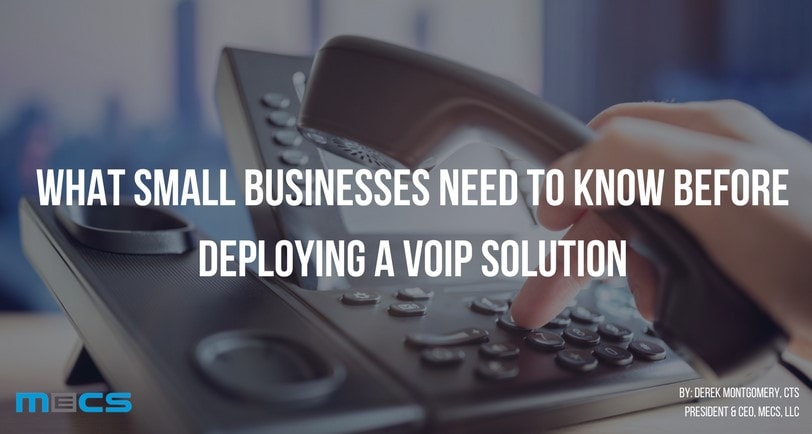 For small businesses, VoIP systems can have a direct impact on productivity and the bottom line. Once deployed, it can potentially grow to become a vital component of your business operation.
The primary benefit of making the transition to VoIP is cost savings. For example, businesses have the potential to achieve average savings between 50% to 75%, after deploying a VoIP solution.
Additionally, VoIP can cut the cost of local calls by as much as 40% and save small businesses approximately 45% each monthover a traditional phone service. There is also more to VoIP than savings as it has the potential to boost productivity.
For example, businesses that incorporated unified communications (UC) that included VoIP, saved an average of 32 minutes per day, per employee because staff members were able to get a hold of each other on the first attempt.
What's more, UC can save small businesses with about 100 employees as much as 191 business-wide hours per day adding up to a grand total of 49,660 hours per year (and up to $920,000 per year in productivity).
As a result, it's important to choose a VoIP solution that is robust and reliable to ensure that your system is always up and running. The successful implementation of a VoIP solution will heavily depend on how the VoIP phone system is deployed.
So how should small business owners approach VoIP? Let's take a look.
Develop a robust VoIP strategy
Deploying a VoIP solution is not straightforward, as a result, it's imperative to develop a strong VoIP deployment strategy during the planning stages. This is because your business will probably transition from a telecom network, legacy PBX system, or move from PSTN to VoIP.
Depending on your specific situation, there will be certain challenges that have to be addressed before initiating the transition to VoIP.
But how does one go about developing a VoIP strategy?
This process can start by conducting a cost analysis of the options that are currently available to you. For example, if the business has already invested in PBX hardware, it will be important to first explore alternative cost-effective PBX hardware solutions.
There might also be opportunities to utilize legacy PBX or telecom networks with your new VoIP solution to achieve seamless migration. What's more, as you gradually upgrade your system, in time you can operate through a completely innovative VoIP system.
Research and identify VoIP business phone systems
Once your migration plan is in motion, small business owners should research and identify a VoIP brand that perfectly meets business requirements. However, you should also think about your long-term business goals.
For example, if you're expecting to scale over the next few years, you should choose a VoIP phone system that can grow with you both seamlessly and cost-effectively. This means that your architecture needs to be set up to scale without any intervention.
At this juncture, you can also engage a VoIP expert who can help guide you through the decision process.
Assess the impact on the end-user
It's important to consider the impact on the end-user who is going to use the new VoIP system. This is because understanding their needs and how they will use it will dictate the success of the VoIP solution.
As a result, you have to take the following into consideration:
User interface (UI)
Telephony features
Complementary accessories like headsets
Engaging the end-user right from the beginning can go a long way to ensuring the success of your VoIP deployment. After all, they will be the ones using the new system and this makes their input critical to the success of the project.
Staff training
Although several VoIP solutions follow a plug and play out-of-the-box model, your staff might still require some training. Even your IT staff might need some training when it comes to successfully setting up the new system.
Training will heavily depend on your staff's knowledge and experience within this space, so plan accordingly before deployment.
MECS has vast experience developing and deploying VoIP systems for organizations across many verticals. Our extensive experience within this space enables us to design solutions for the long-term, at a lower cost.
If you're interested in learning more about how a VoIP solution can help your business boost productivity while benefitting from significant costs savings, contact us for a free consultation.
Post by 
Derek Montgomery
Derek Montgomery has over 20 years of experience in the electronic technology industry. During his time in industry, Derek realized that most organizations were being underserved by technology companies who were more interested in selling products than creating lasting partnerships. Using his in-depth knowledge and love of technology, Derek founded MECS, with the goal of providing innovative solutions and unparalleled customer service.