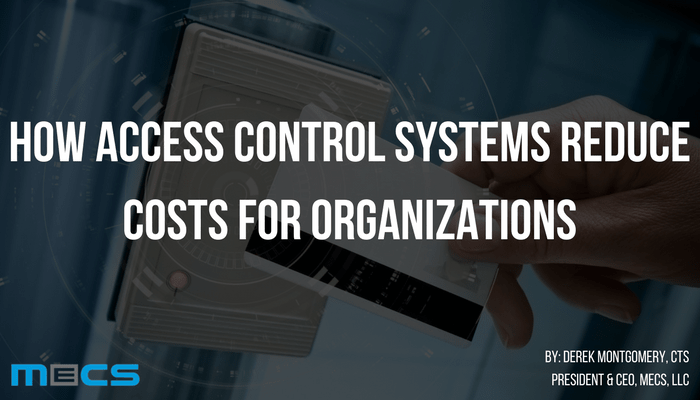 Implementing an access control system enables company administrators to not only limit access to sensitive areas and resources, but also provide them a mechanism to minimize the risk of loss associated with inadvertent damages and preventable loss of time. There are many different solutions available and different scale to the access control systems that can be implemented. Regardless of functionality, they all boil down to a moderate capital expenditure up front with minimal recurring expenses.
What organizations are quickly learning is the initial outlay and increased operating expenses are far less than the current loss in time and resources needed for their existing system. Below are a few of the many use cases in which access control can save organizations (both for-profit and non-profit) money by reducing costs
Access Control Systems Eliminate the Need for Keys & Key Replacements
Having physical keys make sense when an organization is small and only has a minimal amount of employees. As that organization grows, they quickly learn that keeping track of all the keys distributed can be somewhat challenging. Even more so, having replacement keys readily available can be challenging as this is always an unexpected circumstance. An access control system can easily create and cancel old access cards on the fly as your team grows.
Security and Safety Issues Become Easier to Handle
In the event of an emergency, security staff can easily override access to specific areas with a simple push of a button. This will make it easier for police, paramedics, and other emergency personnel to gain access to needed areas without having to wait for company staff. This ensures safety, while also ensuring damage does not occur to your facility in an emergency situation.
Helps Maintain Accurate Hourly Logs
Theft in the workplace generally occurs internally – starting with time. Access control systems can provide a means for ensuring that your hourly employees are honest when submitting time sheets. Generally, the knowledge of this alone prevents it from occurring which eliminates HR's time involved in these situations. Payroll verification becomes a much easier process for all involved.
Prevent Theft and Over Usage of Office Supplies
You can maximize the effectiveness of your office supply budget by putting your office supplies behind an access control door. If employees feel that they are monitored as they obtain items for their desks, they will typically only take what is needed for the task at hand.
Protect Restricted Areas
Protecting restricted areas can be difficult with a physical key system when a key gets lost. The options are to hope for the best and leverage physical surveillance or change the lock which is costly. By placing restricted items (such as healthcare records or confidential documents) behind an access control door lock, you can always have insight on who is entering and leaving while ensuring the wrong people do not end up there by accident.
Protecting Team Members from Physical Harm
Safety of any the members of any organization should be at the top of the list for any leader. Access control systems ensure only the right people are entering the facility in which it is installed. This includes the ability to immediately cancel the access card for terminated employees to ensure violent situations do not occur.
A Short Term Investment with Long Term Savings
There are countless examples as to how access control systems save organization's money. If you're a small team and intend to stay that way, a physical key system may do the job. If you're a large organization or team that aspires to grow, it's a smart decision to begin investing how to deploy an access control system.
MECS has vast experience developing and deploying access control systems for organizations across many verticals. Our experience allows us to design a solution that is built for the long term, that reduces the overall hours needed in order to help reduce costs as much as possible. Contact us for a free access control consultation to understand what would be involved in deploying this type of solution.
Post by 
Derek Montgomery
Derek Montgomery has over 20 years of experience in the electronic technology industry. During his time in industry, Derek realized that most organizations were being underserved by technology companies who were more interested in selling products than creating lasting partnerships. Using his in-depth knowledge and love of technology, Derek founded MECS, with the goal of providing innovative solutions and unparalleled customer service.