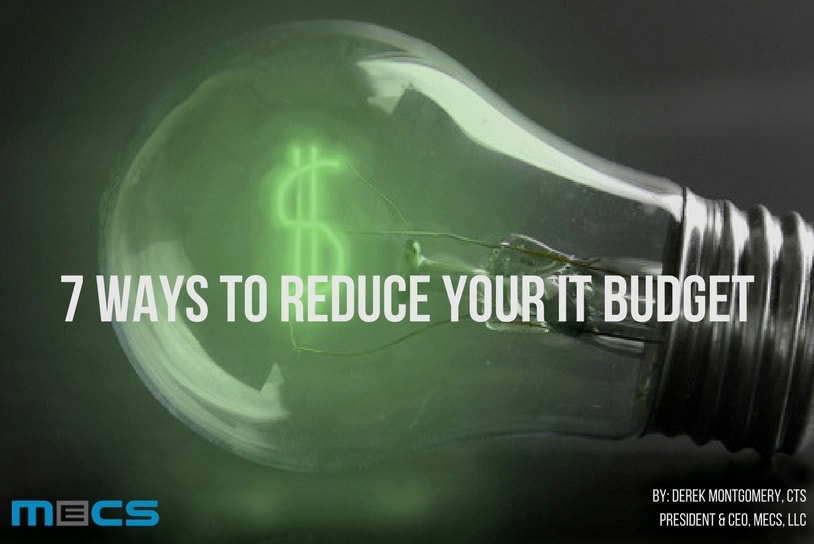 If you are looking for ways to reduce your overall spending, your IT budget may come up for discussion. But if you choose to go down this path, cost-cutting decisions should be made conscientiously as it's critical to ensure that your IT infrastructure is consistently operational.
Fortunately, there are ways to cut costs without sacrificing technology performance. Furthermore, there are some options that can even help to enhance your current IT infrastructure.
Here are 7 ways to effectively reduce IT budget:
1. Analyze the current situation
Take an in-depth look at your IT infrastructure and determine if you need improvements (that can potentially save you a lot of money in the long run). It's important to engage in this activity to ensure that you know what you already have and what you might need, both today and into the future.
By clearly understanding your needs, you can avoid spending money on unnecessary upgrades.
2. Consolidate your needs
Internal technologies like servers and other equipment can be consolidated to enhance control over your environment. By cutting down the number of software applications and servers on the network, you can simplify it and reduce the cost of ownership.
A great option is to embrace cloud computing or virtualization to operate a single server for a variety of purposes.
This approach will enable you to save money on the following:
Maintenance
Support
Testing
3. Hidden costs associated with building in-house IT teams
In a competitive job market, the hidden costs associated with building in-house IT teams can be huge. As a result, it's important to evaluate and determine if it makes sense to manage your IT infrastructure in-house or if it's better to outsource it.
4. Leverage managed services
With the current shortage of tech talent, hiring and holding on to software engineers can quickly become a complicated and expensive undertaking. One way to get around this hurdle is to partner with a Managed Service Provider (MSP).
An MSP managing your IT infrastructure can significantly reduce your expenses as you won't have to hire and train your own staff. You also won't have to deal with having an expensive IT team on your payroll during downtimes (as you will only pay for the service on an as-needed basis).
5. Negotiating additional support hours from your MSP
Changes to your company's systems, security, or software often require a certain amount of support and training. So regardless of who you partner with, make sure that you negotiate additional training and support hours in your contract.
6. Always invest in the right hardware
Investing in the right hardware that matches your operational and compliance requirements, can be highly cost-effective. By building your IT infrastructure on a solid foundation, you can work towards less downtime and optimize speed (enhanced productivity).
7. Estimating future IT investments
Estimating upcoming hardware, software, and maintenance needs today, can help you save in the future. Don't be caught off guard by last minute upgrades or additional IT labor needs associated with future implementations. Consider the TCO (total cost of ownership) from the outset.
MECS offers custom business consultations to help you understand your organization's IT needs.
Click HERE to schedule time with an MECS specialist.
Post by 
Derek Montgomery
Derek Montgomery has over 20 years of experience in the electronic technology industry. During his time in industry, Derek realized that most organizations were being underserved by technology companies who were more interested in selling products than creating lasting partnerships. Using his in-depth knowledge and love of technology, Derek founded MECS, with the goal of providing innovative solutions and unparalleled customer service.