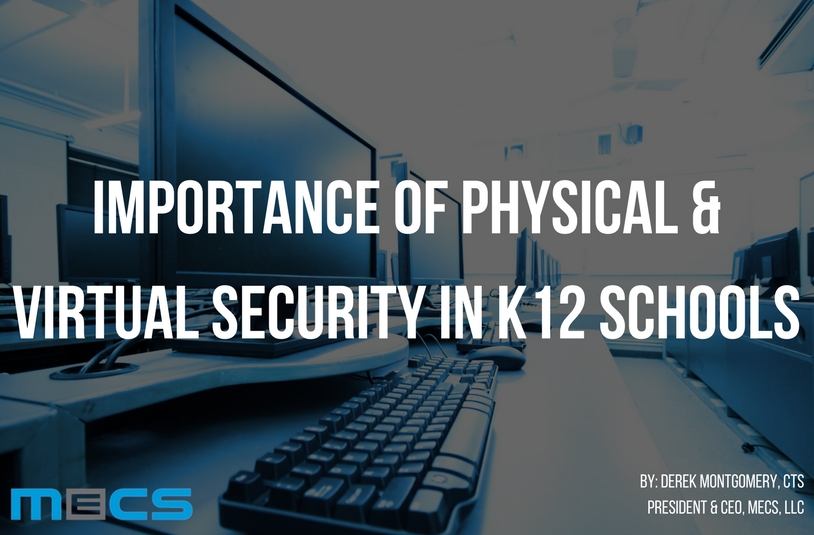 The integration of networked devices has taken off in the K12 sector over the last twenty years, with everything from student information to lesson plans going from paper copies to all digital documents hosted on centralized servers. This has vastly reshaped education, bringing new opportunities for teachers and students to collaborate and expand their curriculum through accessing data in a free and timely manner. It also creates new challenges, specifically for K12 IT leaders tasked with ensuring the academic institution maintains compliance with all legal and ethical guidelines regarding student confidentiality and information security.
Developing and implementing an effective IT policy can be a time-consuming and costly affair for those that do not specialize in it. Instead of risking missing something vital or going over budget, many school districts are partnering with technology firms to create a rock-solid network and security policy that is easy to implement, adhere to, and adjust with changing technology. Here are some things an IT firm can do to help your academic institution or district get secured today.
IT Support from Professionals
Murphy's Law and the classroom go hand in hand like peas and carrots. With students of all ages utilizing a wide variety of technical resources, it goes without saying that problems will crop up. As you will see, it is often students that pose the greatest risk and for whom you need to implement the finest in IT network security policies.
Information Integrity
Under the Family Educational Rights and Privacy Act, all districts that receive funding from the U.S. Department of Education are required to ensure that student information is secure against unauthorized access or dissemination. In the past, this meant that the hard copies were kept under lock and key with access granted under the supervision of administrators.
As we transition away from printed copies to keeping everything digitized, this creates a situation in which this law may be violated not out of malice, but out of carelessness. Earlier this year a student managed to copy the personal details of nearly 15,000 individuals from the South Washington County School District's network, including Social Security Numbers and addresses. The student was able to do this because the district had failed to upgrade to the latest in security technology – two-factor authentication. By working with an IT firm dedicated to network design and security, you will be able to make certain that your students and staff's confidential information is protected against these events.
Ransomware
When most people think of Ransomware, they often associate it with large corporations being targeted due to the capital they have available. This isn't necessarily the case. In 2016, Healthcare and Education were two of the top five most targeted industries due to the sensitivity of the data both industries work with. Public school districts are especially at risk, given the large amount of students and low budget they often have set aside to prevent attacks such as this.
A prime example of a school district that came under such attack is the North East Independent School District. They were affected by three separate ransomware attacks during a two-month time frame, which covered over 20 unique campuses. Fortunately, they had a backup recovery plan in place which prevented them from paying the ransom, which would have been extremely costly had they not planned ahead.
Access Control
Children should be protected from inappropriate content found online, as well as from the dangers located outside the school. An IT firm will be able to work with you to develop an access control system that limits access to authorized individuals while tracking who accesses what. This will result in the greater transparency requested by parents and school boards throughout the country. Handled properly, the security will meld into the background and no one will be inconvenienced in the least.
Why this is vital can be traced back to a single high school student in Fulton, Missouri, back in the spring of 2015. He exploited a weak security system and managed to take down the entire district's network for several hours, crippling administration and inconveniencing educators.(1)
Leverage Experience When it Comes to Security
These two school systems are just the tip of the iceberg. The average school will have hundreds of devices spread across the same number of students, staff, and visitors. Each point serves as an opportunity for a network weakness to be discovered and exploited, making it vital that you turn to those with the experience needed to block known and emergent threats and help you guarantee that your network supports your district's academic mission.
Post by 
Derek Montgomery
Derek Montgomery has over 20 years of experience in the electronic technology industry. During his time in industry, Derek realized that most organizations were being underserved by technology companies who were more interested in selling products than creating lasting partnerships. Using his in-depth knowledge and love of technology, Derek founded MECS, with the goal of providing innovative solutions and unparalleled customer service.