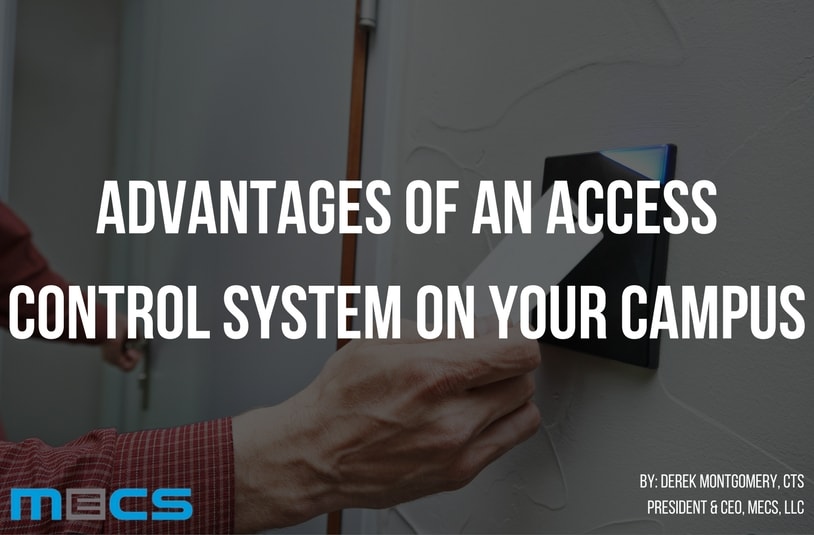 Despite enhanced security and constant vigilance, crimes and unwanted incidents do take place on college campuses. Well over 90% of the incidents are related to damage to property. Often, someone gets the opportunity to grab some freebies because they found a door unlocked and there was no one in sight. However, crimes on campus can be more severe. Investing in an access control system for your campus can help you enhance the level of security you offer to students and staff, and at the same time, overcome hassles and obstacles usually associated with conventional security measures.
For instance, if you have locks on all the doors of the campus and a key gets misplaced, you will have to get a locksmith to fashion a new key and then hand a copy to anyone who needs access to that area. Keys are easy to copy, and hence there is a risk that someone might make a copy and break in. You can imagine how daunting the mere mention of this is, and an actual occurrence can indeed be a major problem for your institution. Therefore, it is time you ditch the old systems and upgrade to an access control system on your campus.
In fact, there are a number of benefits you can enjoy by making this decision:
Better Security and Visibility
You can control the security of your campus remotely, without having to be on site if a lock needs to be opened. There are many areas on a college campus which are out of bounds to students. Putting up a lock on each door simply won't give you the level of security that you need. With an access control system, you can rest assured only authorized personnel are able to enter the restricted areas, as there is no way for anyone to get past the complex technology of the access control system.
In addition, access control systems are more 'visible'. Some people can be put off by the mere sight of a wireless security system which only provides access via a card. Hence, any person with nefarious thoughts on his/her mind would think twice.
Get Rid of Physical Keys
There is no doubt that key locks are effective. After all, they have been in use for centuries now. Moreover, modern key locks are sturdier and come with extra features to enhance security. However, that being said, storing physical keys is a pain. Moreover, if you decide to change a lock, you have to hand out new keys to any number of people who have access to the room/area. With an access control system, you can switch to card keys.
In case a card is lost or stolen, you can immediately wipe it from the system and it would no longer work. This is not the case with physical keys, where anyone can make a copy and open the lock to access restricted areas of the campus.
Be Proactive
Rather than dealing with an incident after it occurs, you can reduce the risk of it happening in the first place. Access control systems offer better surveillance and security and hence, you can count on the system to minimize opportunities for miscreants to cause a problem. Moreover, these systems are customizable so you can integrate them with your security cameras and any other equipment you use. This enables you to create a more comprehensive and cohesive security detail for your campus to keep things under control.
Cost-Effectiveness
Access control systems are foolproof, scalable, and flexible, which means you can adjust the system to suit the changing needs of your campus. You won't have to invest in new technology. You might be worried about the upfront cost, but looking at the big picture, the system proves incredibly low-cost to operate in the long run. With regular maintenance, you can use the system to make your campus safer and better controlled for several years to come. Not to mention, with an access control system, you can save more time than sticking to the conventional method, and as you know, time = money!
These are just some of the advantages you can get by investing in an access control system for your college campus.
Derek Montgomery has over 20 years of experience in the electronic technology industry. During his time in industry, Derek realized that most organizations were being underserved by technology companies who were more interested in selling products than creating lasting partnerships. Using his in-depth knowledge and love of technology, Derek founded MECS, with the goal of providing innovative solutions and unparalleled customer service.